Chanthu (Enteng)
Tropical storm (SSHS)


Tropical Storm/Typhoon warnings for July 25 in the Philippines

---

Formed
July 20
Dissipated
July 29
Accumulated Cyclone Energy
9.72
Highest winds
60 mph (1 minutes sustained)

45 mph (10 minute sustained)
(mph)

Lowest pressure
994
Damages
$2.93 billion (2016 Wikipedia:United States Dollar|USD]])
Direct Fatalities
348
Indirect Fatalities
103
Missing
41
Areas affected
Philippines
Part of the
2082 Pacific Typhoon Season
Tropical Storm Chanthu (Enteng) was a deadly and costly tropical storm that occurred in the Philippines during late July. Killing 348, mostly by drowning due to extreme rainfall, and causing $2 billion in damages, it is one of the worst non-typhoon strength tropical cyclones to impact the Philippines.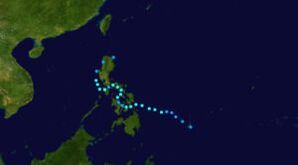 Impact
The day after formation, Enteng became a tropical storm, and shortly afterward made landfall in the Philippines. Heavy rainfall, up to 8 inches per hour, caused flash flooding nationally across the mid-Philippine region. Moving at only 3 mph, it became almost stationary over the north-central Philippines. In Manila, over 4 feet of rain was dumped, and 50 mph winds caused a mixture of extremely deadly debris filled flash floods. On July 28, Enteng weakened, sped up to around 20 mph, then looped around Luzon. On July 29, Enteng finally dissipated.
Retirement
On September 1, 2082, PAGASA decided to retire the name "Enteng" due to death toll and damage cost. It will be replaced with "Enta" for the 2088 season.