Super Typhoon Mirinae (Butchoy)
Category 5 super typhoon


Super Typhoon Mirinae (Butchoy) nearing north Luzon at peak intensity

---

Formed
April 29
Dissipated
May 19
Accumulated Cyclone Energy
205.3 ACE
Highest winds
195 mph (10 minute sustained)

215 mph (1 minutes sustained)
(MPH)

Lowest pressure
871
Damages
$93.4 billion (2016 USD)
Direct Fatalities
10,832
Indirect Fatalities
2,926
Missing
100,000>
Areas affected
Central Pacific Islands, Philippines, Taiwan, West China, South Korea, North Korea, North-west Russia, Honshu, Aleutian Islands Alaska
Part of the
2082 Pacific Typhoon Season
Typhoon Mirinae (Butchoy) was the strongest tropical cyclone ever recorded (tied with Hurricane Patricia of 2015) and the most intense tropical cyclone ever recorded, surpassing Typhoon Tip (1979). Killing thousands, it was the costliest typhoon in the Pacific Ocean and second costliest globally.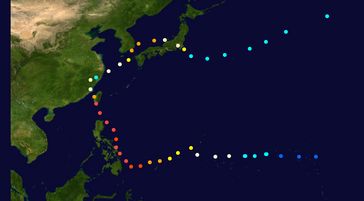 Impact
Philippines
On May 2, typhoon warnings were issued for the western half of the Philippines. The president issued a state of emergency for south Philippines when Butchoy became a category five super typhoon. At 5:00 PM central time on May 3, Butchoy strengthened to 180 mph winds, and moved along the Philippines's west coast. 160 mpg winds downed trees, telephone lines and caused major damage to coastal structures. A storm surge of 10 feet was pushed inland, and rain caused mudslides and landslides. To make things worse, an unnamed volcano erupted, causing a VEI3 explosion, causing lahars to bury multiple villages, killing over 500 alone with the lahars.
Taiwan, China, Korea, and Japan
After hitting the Philippines, the storm was foretasted to track over northern Luzon, then dissipate in the South China Sea. Instead, without warning, Mirinae restrengthened and struck Taiwan. Next it hit China, then Korea, and finally Japan. Taipei City in Taiwan was devastated, with nothing left standing after Mirinae attained a second peak intensity of 200 mph and a 30 foot storm surge. In China, a dam burst, and caused a 800 foot megatsuanmi to wipe out hundreds of thousands of buildings in west China. In South Korea, millions of people were effected across Seoul and other cities. 72 people were killed in the collapse of a 12 story apartment in Seoul after heavy rains and flash floods eroded the foundation. Lastly, Honshu region, Japan was widely effected, as the now 500 mile wide category 1 typhoon battered the area, killing 36. After leaving Tokyo, the storm weakened, the completely dissipated.