The October 2026 Southern California Wildfires were a series of wildfires that burned a large area of Southern California. At least 2 fires occurred, the largest so far being the Blackhawk Fire, which burned approximately 552,916 acres. At least 184 people were killed in the fires. San Diego, Orange, Los Angeles, San Bernandino, and Ventura counties were particularly hard hit. Orange County was almost completely destroyed by the Gist Fire.
Synopsis
On October 11, a Santa Ana wind event began across Los Angeles, Ventura, Riverside, San Bernandino, San Diego, Riverside, and Imperial counties. The winds were deemed historic, with winds in the coastal areas, valleys, and deserts sustained at 45-50 mph, with gusts as high as 80 mph. In the mountain areas, winds gusted to 120 mph and were sustained at 80 mph. These remarkable winds were accompanied by single digit humidity levels in all regions and temperatures in the triple digits in all areas. The winds peaked on October 12,13,18, 21, 22, and 23, with triple digit heat and single digit humidity lasting from October 11 to October 24. However, by October 20, most of the burnable open land in Southern California was already burnt away, which is why no new notable fires erupted after October 18. At first, the Santa Ana's were blowing from the north-east. However, on October 14, another high pressure formed over Baja California, causing the winds to shift towards the north-west, catching fire fighters off-guard. This is what caused the Gist fire and a few other fires to grow to the size they did.
Notable Fires
For a fire to have been considered notable, it must have destroyed at least 10,000 acres of land or 500 buildings.
Name
County(ies)
Area Burned (Acres)
Fire Map
Dates
Cause
Notes
Japatul Fire
San Diego
24,573

October 11 - October 14
Downed powerlines
Destroyed 34 buildings. 4 people injured.
Cheseboro Fire
Los Angeles
37,362

October 11 - October 24
Car fire
28 buildings destroyed. 1 fatality.
Desert Fire
San Diego
215,824

October 12 - October 20
Illegal camp fire
1,362 buildings destroyed. 3 deaths, 47 injuries. Borrego Springs and Ranchita completely destroyed, and northern Julian was burnt down.
Gist Fire
San Diego, Orange, Riverside, Los Angeles, San Bernandino
548,275

October 12 - October 22
Downed power lines
878,500 buildings destroyed. 180 deaths. 167 injuries. The cities of Vista, Oceanside, Fallbrook, San Clemente, Dana Point, and Laguna Niel were destroyed. Carlsbad, Mission Viejo, Irvine, Tustin, and Yorba Linda were largely destroyed. Number of buildings damaged is an estimate accurate number is between 800,000 and 950,000 buildings.
Hughes Fire
Los Angeles
54,826

October 12 - October 18
Car fire
187 buildings destroyed. 3 injuries.
El Captain Fire
San Diego
16,284

October 12 - October 17
Downed power lines
153 buildings destroyed.
Blackhawk Fire
San Bernandino, Los Angeles
552,916

October 12 - October 24
Downed power lines
5,281 buildings destroyed. 36 deaths, 538 injuries. Of that, 29 deaths and 517 injuries were from smoke inhalation. The smoke was so heavy that at one point during the fire, every school district in Los Angeles County was closed.
Fourfork Fire
Ventura, Los Angeles
184,752

October 13 - October 23
Improperly disposed cigarette butt
117,563 buildings destroyed. 14 deaths, 29 injuries. Ventura, Santa Paula, and Ojai were completely destroyed. Sparks were blown across the Santa Clara River and ignited in a golf course in Oxnard. Nearly half of Oxnard was destroyed.
Long Canyon Fire
Los Angeles
8,960

October 13 - October 16
Downed power lines
818 buildings destroyed. 4 deaths, 7 injuries.
Silverrock Fire
Riverside
17,826

October 13 - October 17
Golf cart crash
248 buildings destroyed. 7 deaths, 18 injuries. Started at a resort golf course where a golf cart crashed and caught on fire. Quickly grew out of control due to winds. A La Quinta neighborhood of 342 people was completely destroyed.
Airmen Fire
Kern, Los Angeles
75,452

October 13 - October 22
House fire
1,382 buildings destroyed. 24 deaths, 39 injuries. Edwards Air Force Base and the cities of Edwards, Fairmont, Three Points, and Sanberg were completely destroyed. Rosamond was largely destroyed and the fire burned the outer reaches of Lancaster.
Coronado Fire
San Diego
3,263

October 14 - October 16
Downed powerlines
87 buildings destroyed. 8 injuries.

Started at a naval base on Coronado island. Half of the island burned down. Notable for destroying San Diego's major naval base.

Los Virgenes Fire
Los Angeles
11,683

October 16 - October 21
Car fire
838 buildings destroyed. 3 deaths, 2 injuries.
Rimrock Fire
San Bernandino
48,924

October 17 - October 23
Downed power lines
219 buildings destroyed. Almost burned Mount San Gorgonio.
Other Fires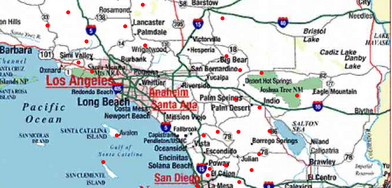 There were 173 fires that burned at least 50 acres of land, 83 that burned at least 100 acres, 28 that burned at least 1,000 acres, 12 that burned more than 10,000 acres, and 4 that burned at least 100,000 acres. One 22 acre fire burned in the San Diego Zoo, killing 67 exotic animals and 6 people in the zoo. The relatively low death toll was due to the fire starting in a closed off area and it moved slow, allowing most people and animals to escape. Another fire burned in Griffith Park in Los Angeles, killing one person. The observatory was also burnt down in the 735 acre fire.
Gallery