Midwest Halloween 2016 Outbreak

Models Forecasted a High Risk Severe Weather Event for Halloween
Date of tornado outbreak:
October 31st-November 1st, 2016
Duration1:
1 day, 17 hours and 45 minutes
Maximum rated tornado2:
EF5 tornado
Tornadoes caused:
65
Damages:
$2.5 billion (2016 USD)
Fatalities:
119
Areas affected:

1Time from first tornado to last tornado
2Most severe tornado damage; see wikipedia:Enhanced Fujita Scale
The Midwest Halloween 2016 Outbreak was a significant Tornado Outbreak that affected portions of the Midwest from October 31st to November 1st, 2016.
The Event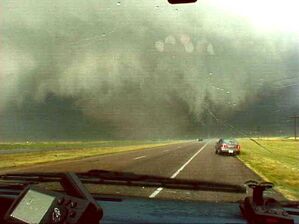 Imagine if this actually happened.
Tornado count
Confirmed
Total
Confirmed
EF0
Confirmed
EF1
Confirmed
EF2
Confirmed
EF3
Confirmed
EF4
Confirmed
EF5
65
17
26
12
5
4
1
Ad blocker interference detected!
Wikia is a free-to-use site that makes money from advertising. We have a modified experience for viewers using ad blockers

Wikia is not accessible if you've made further modifications. Remove the custom ad blocker rule(s) and the page will load as expected.