Hurricane Nana
Category 4 hurricane


Nana striking Florida as a Category 4 hurricane

---

Formed
August 27
Dissipated
September 18
Accumulated Cyclone Energy
39
Highest winds
155 mph
(1-min sustained)
Lowest pressure
921 mbar
Damages
$22.7 billion (2038 USD)
Direct Fatalities
182
Indirect Fatalities
37
Missing
52
Areas affected
South America, Lesser Antilles, Jamaica, Cuba, Florida, Newfoundland
Part of the
2038 Atlantic hurricane season
Hurricane Nana was the strongest and most devastating of the
2038 Atlantic hurricane season
. It has also been known to affect South America, but just a little. Nana Lasted from August 27 through September 18, nearly a month.
Meteorological History
Early on August 23, a tropical low was spotted near the African coast. It was given a 40% chance of development at the second advisory. The invest became a tropical depression on August 27, eventually becoming a tropical storm on October 28. It became a hurricane on August 29, and a major hurricane on August 31. Due to wind shear, the storm weakened back to a category 2 hurricane. After exiting the wind shear area, Nana reverted to a Category 3 hurricane, eventually becoming a Category 4 later on. Due to effects on land, the storm weakened but once again reattained category 4 intensity. Being extremely close to category 5 intensity, the storm weakened because of interactions of land to a category 1. Nana became extratropical on September 17 and fully dissipated on September 18.
Retirement
On January 15, the WMO decided to retire the name Nana. It would be replaced with Nereid for the 2044 season.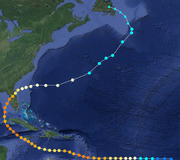 Ad blocker interference detected!
Wikia is a free-to-use site that makes money from advertising. We have a modified experience for viewers using ad blockers

Wikia is not accessible if you've made further modifications. Remove the custom ad blocker rule(s) and the page will load as expected.