2082 Pacific Typhoon Season
First storm formed
Nepartak (Ambo) January 17
Last storm dissipated
Chanthu (Enteng)
Strongest storm
TBA
Total depressions
Unkown
Total storms
Unkown
Hurricanes
Unknown
Major hurricanes
Unknown
Total damages
Unkown
Total fatalities
Unknown
The 2082 was the least active typhoon season on record. With only 7 storms, the season's last storm was Chanthu. The season came to a halt when the temperature in the pacific dropped below freezing for three months globally when Yellowstone Super Volcano erupted. After the temperatures rose to above freezing, it was still was to cold for tropical cyclone formation. Despite the low activity, the season still had above normal strong super typhoons.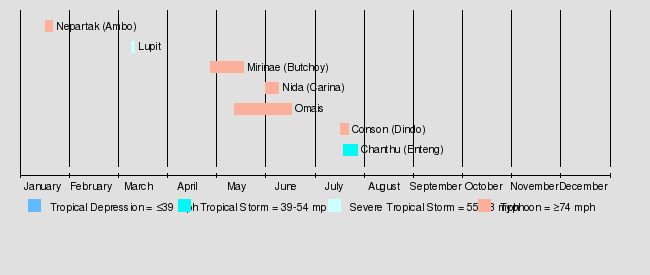 (Timeline copied and pasted from CycloneRyne's 2101 Atlantic Hurricane Season, all rights reserved)
Storms
Typhoon (JMA)
Category 2 typhoon (AMS)
Duration
January 17 – January 21
Peak intensity
175 km/h (110 mph) (10-min)  983 hPa (mbar)
Typhoon Nepartak (Ambo)
Severe tropical storm (JMA)
Tropical storm (SSHWS)
Duration
March 11 – March 13
Peak intensity
95 km/h (60 mph) (10-min)  995 hPa (mbar)
Severe Tropical Storm Lupit
Typhoon (JMA)
Category 5 super typhoon (AMS)
Duration
April 29 – May 19
Peak intensity
315 km/h (195 mph) (10-min)  871 hPa (mbar)
Super Typhoon Mirinae (Butchoy)
Main Article: Super Typhoon Mirinae (Butchoy)
Typhoon (JMA)
Category 5 super typhoon (AMS)
Duration
June 2 – June 10
Peak intensity
195 km/h (120 mph) (10-min)  903 hPa (mbar)
Super Typhoon Nida (Carina)
Typhoon (JMA)
Category 2 typhoon (AMS)
Duration
June 14 – June 18
Peak intensity
130 km/h (80 mph) (10-min)  985 hPa (mbar)
Typhoon Omais
Typhoon (JMA)
Category 4 typhoon (AMS)
Duration
July 18 – July 23
Peak intensity
185 km/h (115 mph) (10-min)  901 hPa (mbar)
Super Typhoon Conson (Dindo)
Tropical storm (JMA)
Duration
July 20 – July 29
Peak intensity
75 km/h (45 mph) (10-min)  994 hPa (mbar)
Tropical Storm Chanthu (Enteng)
Main Article: Tropical Storm Chanthu (Enteng)